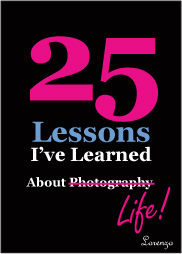 25 Lessons is the #1 Best
Selling Photo Essay & Artist
Biography on Amazon in
2010 and 2011
About The Book
25 Lessons I've Learned
about Photography Life!
Other Books by Lorenzo

Praise
Amazon Reviews
Letters from Readers
Book Reviews
Other Testimonials

About The Artist & Author
Lorenzo (Domínguez) Artist Bio
Photography CV
Writing CV
Author Central on Amazon
goodreads author profile
facebook.com/lorenzo.dominguez



News About 25 Lessons
News!

Book Excerpts
Read The Preface
& Chapter Titles

News
News about the book

The Inspiration!
25 Lessons I've Learned
(About Photography)

Sample Photos
Slideshow of the 25
photos featured in the book!

Sneak Preview!
See a low-res version
of the entire book!

Hi-Res Photo Grid for:
Media, Blog & Press Use

Where to Buy



#1 Photo Essay
on Amazon.com for 2010 & 2011!

Paperback on Amazon
$9.99 on Amazon.com
Kindle Versions
Now Available as an e-book for:
iPad, Kindle, iPhone, iPod touch, PC,
Mac, Blackberry, & Android devices

Google eBook! $3.03
Hard & soft cover versions on:
Blurb

PUBLISHING & REPRESENTATION HISTORY
In 2005, The 25 Lessons was under contract with Cyan Books, a small independent publisher in London that focused on art and design books. However, although I worked with their editor for a year to write the book, ultimately we nullified the contract because the company had financial problems and could not meet its obligations. Subsequently, I regained all global publishing rights.
When I first solicited this book I received a number of indications of interest from editors including:
· Lauren Marino at Gotham
· Nick Detton Brown at Ulysses Press
· Trace Murphy at Doubleday
Also, Steve Riggio, CEO and Vice Chair of Barnes & Noble, wrote to me directly to say that he was going to ask Charlie Nurnberg, the former CEO for B&N's Sterling Publishing, to take a look.

Subsequent to the original solicitation and the book offer, I signed on with Bill Gladstone, the literary agent representing Eckhart Tolle (author of The New Earth and The Power of Now). However, I eventually terminated our agreement because of a contract dispute.

Subsequently, I had discussions with Eileen Gittens the CEO at blurb.com, and she encouraged me to use her company's self-publishing platform. The 25 Lessons became an instant best seller on their site. And as I began this letter, the book has gone on to be the #1 bestselling photo essay on Amazon.com in 2010, 2011 and 2012, as well.

Copyright © 2005-2011. Lorenzo Domínguez. All Rights Reserved. These pages are protected by international copyright laws.