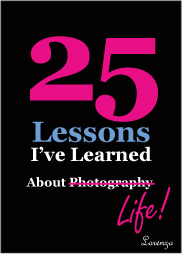 25 Lessons is the #1 Best
Selling Photo Essay & Artist
Biography on Amazon in
2010 and 2011
About The Book
25 Lessons I've Learned
about Photography Life!

About The Artist & Author
Lorenzo (Domínguez) Artist Bio
Photography CV
Writing CV
Author Central on Amazon
goodreads author profile
facebook.com/lorenzo.dominguez



News About 25 Lessons
News!

Book Excerpts
Read The Preface
& Chapter Titles

Praise
Raves, Reviews &
Reader's Letters

News
News about the book

The Inspiration!
25 Lessons I've Learned
(About Photography)

Sample Photos
Slideshow of the 25
photos featured in the book!

Sneak Preview!
See a low-res version
of the entire book!

Hi-Res Photo Grid for:
Media, Blog & Press Use

Where to Buy



#1 Photo Essay
on Amazon.com for 2010 & 2011!

Paperback on Amazon
$9.99 on Amazon.com
Kindle Versions
Now Available as an e-book for:
iPad, Kindle, iPhone, iPod touch, PC,
Mac, Blackberry, & Android devices

Google eBook! $3.03
Hard & soft cover versions on:
Blurb

About The Photographer, Journalist & Author
Lorenzo is an author, a writer and an award-winning street photographer.
He has written numerous books, interviews and articles about fine art and photography for TRVL, En Foco, Nueva Luz, Rain Tiger and the Examiner.
Most recently, Lorenzo edited and published a new edition of Jacob Riis's How The Other Half Lives, which is widely considered one of the most important works in American history and is a staple in college courses about photojournalism, social reform and literature.
Throughout 2010, 2011 and 2012, his book, 25 Lessons I've Learned about photography Life! has been the #1 Best Selling Photo Essay and Artist & Photography Biography on Amazon.com. Paul Giguere, guru for the popular podcast thoughts on photography, considers 25 Lessons one of the "classic" essays on photography. In October of 2010, he served as the NYC photography adviser for the recently launched Microsoft foursquare photography app. In 2008, he was chosen to be the HP Be Brilliant Featured Artist.
Since taking up digital photography in 2005, his photography has been featured in fotoMAGAZIN, Germany's premier photo magazine, and his photos have been cited, posted and published by over 330 other blogs, websites, and print publications.
Today, Lorenzo has over 34,000 photographs published on flickr.com—one of the world's most popular photography websites—where his photos have been seen over 6 million times and where he ranks as one of the site's most popular photographers (aka "lorenzodom").
He has been called an "Internet photography sensation" by Time Out New York and is considered a "Flickr star" by Rob Walker, Consumed columnist, for New York Times Magazine.
His photography work is represented worldwide by Getty Images. He is represented by the Vantage Copyright Agency (VCA) for foreign literary rights in Mainland China and Hong Kong and the Bookhearts Agency for Korean Foreign Literary Rights in South Korea.
Contact Information
646.320.6553
lorenzo@25Lessons.com

Chinese Foreign Literary Rights
Vantage Copyright Agency (VCA)
Hongyan Wu
Vantage Copyright Agency
53, Jinhu Road, Nanning,
Guangxi, 530028, P.R. China
86.771.5516042; 5516126
86.771.5516041 (Fax)
wuhongy@163.com, vantageagency@gmail.com

Korean Foreign Literary Rights
Bookhearts Agency
Crystal Lee
11 N. Browning Avenue
Tenafly, NJ 07670
201.871.6763
ddubugy@hotmail.com

INTERVIEWS
Interview with Steven Shalowitz of The One Way Ticket Show
Interview with Sally Golan of Celebrity Wire
Interview with Bill Hector Weye and Sandra Pipczynski.
PRAISE FOR LORENZO! AND 25 LESSONS
"In many of my conversations on great photographers, I frequently mention Lorenzo's work. His sequential photographs…are nothing less that a visual urban poem. It has been my pleasure to watch Lorenzo's rapid growth as a leading photographer of our time."
Jim Van Meter, Rochester, NY, USA
"Lorenzo is a master. His body of work is some of the very best online and may very well be some of the best being done in the medium today. His street work follows in the tradition of Paul Strand, Cartier-Bresson, Garry Winogrand and Lee Friedlander. Lorenzo's 25 Lessons are…as seminal as Ansel's dissertation on the zone system. I found them to be reenergizing, perceptive and extremely useful. I have been touched by his story, his writings and by his work. I can't imagine anyone not being so."
Barry Shapiro, Los Angeles, CA, USA
"Lorenzo…has a passion for life, photography and writing. He is a linguistic genius, a storyteller through words and pictures. He captures with his camera the world as he sees it, its feelings, love, beauty and all it has to offer..."
Brenda George, Adelaide, Australia

Copyright © 2008. Lorenzo Domínguez. All Rights Reserved. These pages are protected by international copyright laws.