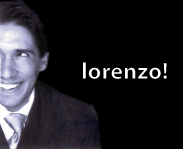 Upcoming Events
October 19th Opening

lorenzo! is a poet, writer and photographer who lives in New York City. lorenzo began taking photos in the Spring of 2005, when, for three months, he lived at The Little Church in the middle of Manhattan. Immediately, lorenzo began receiving acclaim for his work, and only after a year of taking photos, he established himself as one of the premier and most successful up-and-coming photographers on the streets of New York City.

By July of 2006, over 150 blogs, websites and print publications had cited, posted or published over 300 of his photos. Credits include Look Magazine, The Gnostic, L Magazine, and most recently, a feature story about his "cut-out" technique in the July 2006 issue of fotoMAGAZINE, Germany's premier photography journal.

His work has been exhibited at the NYC Exposition in Manhattan, NY (October 2005), and the Eye Candy Show in Brooklyn, NY (July 2006).

Also, in the Spring of 2005, after 45 days of taking up photography in earnest, lorenzo published 25 Lessons (about photography) online. Tens of thousands of people have read 25 Lessons since. A year later, in the Spring of 2006, Cyan Books approached lorenzo about publishing his work.

Subsequently, he elaborated 25 Lessons to tell the personal story of his phenomenal rise to success. Cyan Books will be publishing 25 Lessons in the Spring of 2007.