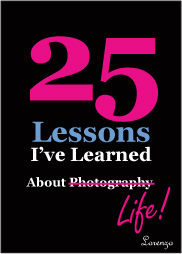 25 Lessons is the #1 Best
Selling Photo Essay & Artist
Biography on Amazon in
2010 and 2011
About The Book
25 Lessons I've Learned
about Photography Life!
Other Books by Lorenzo

Praise
Amazon Reviews
Letters from Readers
Book Reviews
Other Testimonials

About The Artist & Author
Lorenzo (Domínguez) Artist Bio
Photography CV
Writing CV
Author Central on Amazon
goodreads author profile
facebook.com/lorenzo.dominguez



News About 25 Lessons
News!

Book Excerpts
Read The Preface
& Chapter Titles

News
News about the book

The Inspiration!
25 Lessons I've Learned
(About Photography)

Sample Photos
Slideshow of the 25
photos featured in the book!

Sneak Preview!
See a low-res version
of the entire book!

Hi-Res Photo Grid for:
Media, Blog & Press Use

Where to Buy



#1 Photo Essay
on Amazon.com for 2010 & 2011!

Paperback on Amazon
$9.99 on Amazon.com
Kindle Versions
Now Available as an e-book for:
iPad, Kindle, iPhone, iPod touch, PC,
Mac, Blackberry, & Android devices

Google eBook! $3.03
Hard & soft cover versions on:
Blurb

TODAY, EVERYONE IS A PHOTOGRAPHER
Despite the rise of the smart, mobile and iPhone as the camera du jour for most people today, for the last two years digital camera sales have seen a significant increase worldwide. Last year, Leica Camera AG reported a 28% sales increase, Fujifilm posted a 7% increase, and the world's biggest camera company, Canon, is forecasting a 16% profit increase in 2012. A snapshot of compete.com's site analytics a year ago, show that in May of 2011 the top ten photo sharing sites online cumulatively posted 74 million unique visitors:
23 M — flickr.com
20 M — photobucket.com
8 M — picasaweb.google.com
6 M — shutterfly.com
4 M — imageshack.com

4 M — snapfish.com
2 M — smugmug.com
3 M — kodakgallery.com
3 M — weshots.com
1 M — panoramio.com

Moreover, analysts often attribute the rise in popularity of photography to the "Facebook effect," citing postings of pictures to social media sites as the primary reason for the overall increase. Facebook's recent billion dollar acquisition of the popular photo sharing application Instagram clearly shows that it recognizes that photography is the one of the surest means of appealing to billions of people worldwide.

More 2011 numbers from pingdom.com likewise forecast the same (posted January 2012):
100 B — Estimated number of photos on Facebook by mid-2011
6 B — Photos hosted on Flickr (as of August 2011)
51 M — Total number of registered users on Flickr
14 M — Number of Instagram accounts created during 2011
5 M — The average number of photos uploaded each day to Instagram
4.5 M — Number of photos uploaded to Flickr each day
1 — Apple iPhone 4 is the most popular camera on Flickr

M = Million; B = Billion
---
Copyright © 2005-2011. Lorenzo Domínguez. All Rights Reserved. These pages are protected by international copyright laws.