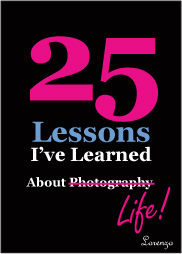 25 Lessons is the #1 Best
Selling Photo Essay & Artist
Biography on Amazon in
2010 and 2011
About The Book
25 Lessons I've Learned
about Photography Life!
Other Books by Lorenzo

Praise
Amazon Reviews
Letters from Readers
Book Reviews
Other Testimonials

About The Artist & Author
Lorenzo (Domínguez) Artist Bio
Photography CV
Writing CV
Author Central on Amazon
goodreads author profile
facebook.com/lorenzo.dominguez



News About 25 Lessons
News!

Book Excerpts
Read The Preface
& Chapter Titles

News
News about the book

The Inspiration!
25 Lessons I've Learned
(About Photography)

Sample Photos
Slideshow of the 25
photos featured in the book!

Sneak Preview!
See a low-res version
of the entire book!

Hi-Res Photo Grid for:
Media, Blog & Press Use

Where to Buy



#1 Photo Essay
on Amazon.com for 2010 & 2011!

Paperback on Amazon
$9.99 on Amazon.com
Kindle Versions
Now Available as an e-book for:
iPad, Kindle, iPhone, iPod touch, PC,
Mac, Blackberry, & Android devices

Google eBook! $3.03
Hard & soft cover versions on:
Blurb

WHAT PEOPLE WANT IS A LITTLE INSPIRATION
Consider the following phenomena occurring across the globe:
— According to the New York Times, roughly four million families in the US lost their homes to foreclosure between the beginning of 2007 and early 2012.
— According to the USA Today, 10% more American families owe more than $30,000 in unsecured debt, up from 8.9% in 2009. "I talk all the time to people who are still just hanging on by their fingernails," says Gail Cunningham, director of consumer education at Credit.com. ("More families have no savings; Recession drained funds; boosted debt," Christine Dugas, USA Today, May 14, 2012)
— If you include "long-term discouraged" and "under-employed" workers (respectively, those without jobs who have not looked for work in the past year and those who have accepted part-time jobs when they are really looking for full-time employment) some economists estimate that real unemployment rate in the US for the first quarter of 2012 is over 22 percent. Similarly, the European unemployment rate is the highest in almost 15 years.
— The Economist reports, "in the past five years youth unemployment has risen in most countries in the OECD, a rich-country club. One in five under-25s in the European Union labor force is unemployed, with the figures particularly dire in the south. In America just over 18% of under-25s are jobless."
— In addition to not being able to find a job, according to USA Today, "the average student debt load tops $25,000 in the US. The Federal Reserve Bank of New York estimates that 37 million Americans have student loan debt, totaling $870 billion. Bankruptcies are on the rise, with 81% of bankruptcy attorneys reporting more clients with student debts in the past five years."
— Jobless youth are also depending on their parents more often, creating more stress for adults and families across the country. According to the US Census Bureau, 56 percent of men ages 18 to 24 and 48 percent of women in the same age group life with their parents. Over the last twenty years, the percentage of 24 to 34 year olds "living at home" has almost doubled.
— According to Salon.com, "as the U.S. economy struggles to pull out of the worst funk since the 1930s, public services for the country's most vulnerable populations—children, the elderly, the mentally ill—are being cut or disappearing at a time when the need for them is greater than ever. Faced with gaping deficits, states have slashed $1.6 billion from mental health programs over the past four years, according to a report by the National Alliance on Mental Illness. The pain is being felt everywhere. Meanwhile, homelessness, domestic violence, and child abuse are rising. Nationally, nearly 1 million schoolchildren were homeless in the 2009-2010 school year, a 38 percent increase in four years, according to the U.S. Department of Education."
— "Family stress, community stress, student stress equals higher levels of depression and related issues among caretakers and children. With school cuts, counselor cuts and classroom sizes going up, the schools are seeing more mental health issues and have fewer resources. We're getting more kids sent to us with clinical depression, PTSD or behavioral acting-out issues. And all this increases the possibility of suicide. Cities across the country are grappling with these issues."
— In October 2011 Time Magazine reported, "antidepressant prescribing has risen nearly 400% since 1988, according to data from the Centers for Disease Control and Prevention (CDC). More than 1 in 10 Americans over age 12 now takes an antidepressant, the study finds, and yet two-thirds of those with severe symptoms of depression do not take antidepressants at all." Over the past two decades, the use of antidepressant medications has grown to the point that they are now the third most commonly prescribed class of medications in the United States (healthaffairs.org).
— According to pyschcentral.com, "prescriptions for antidepressants have jumped nearly 30 percent in England over the past three years, and some believe the rise is attributed to economic stress and consequent mental health problems. The new data from the U.K.'s National Health Service (NHS) Information Centre shows antidepressant use alone rose 28 percent between 2007/08 and 2010/11 in England. Just under 34 million prescriptions were dispensed for antidepressants in 2007/08, rising to 43.4 million in 2010/11."
WHAT PEOPLE REALLY NEED IS A LOT OF INSPIRATION
Be the genius who discovers the next bestselling phenomenon of 2012. Consider 25 Lessons today...before someone else does.
Copyright © 2005-2011. Lorenzo Domínguez. All Rights Reserved. These pages are protected by international copyright laws.